P12 House

| | |
| --- | --- |
| PROJECT | P12 House |
| TYPE | private residence |
| LOCATION | Prachautit 12, Bangkok, Thailand |
| OWNER | Theeranuj Patharakorn / Peerachan Wechsuruk |
| SITE AREA | 100 sq.wah (400 sq.m) |
| USED AREA | 390 sq.m |
| STATUS | construction permission |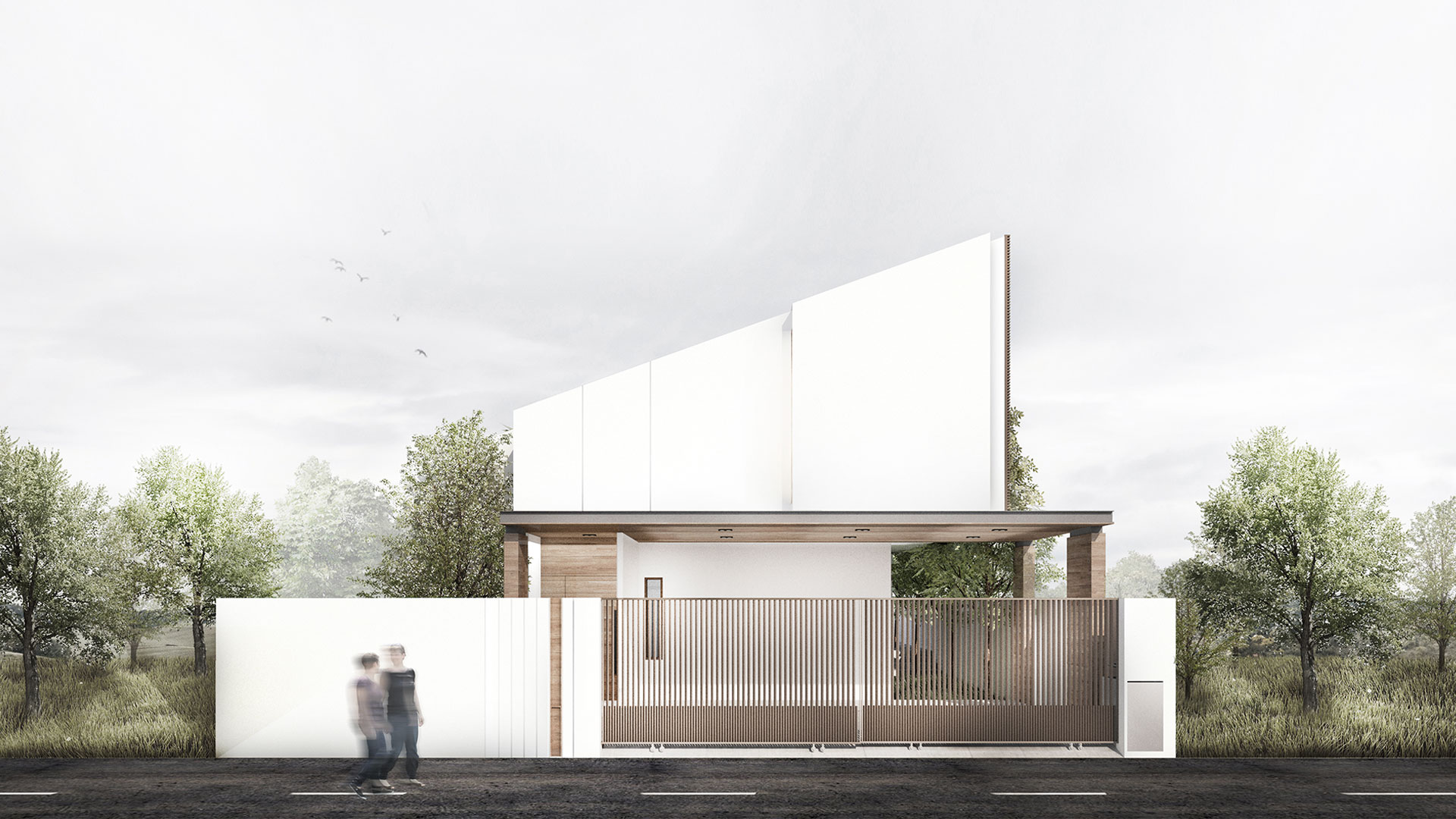 | | |
| --- | --- |
| PROJECT | P12 House |
| TYPE | private residence |
| LOCATION | Prachautit 12, Bangkok, Thailand |
| OWNER | Theeranuj Patharakorn / Peerachan Wechsuruk |
| SITE AREA | 100 sq.wah (400 sq.m) |
| USED AREA | 390 sq.m |
| STATUS | construction permission |
Settles in an urban area of South Bangkok, a four hundred square meters of land next to a very narrow secondary street, bounded by variation of neighborhood, other houses, housing, and futsal stadium. A house for sooner couple with their parents originated by simple human dwelling which comprise of overall basic functions.

A non-terrain rectangular shape of land facing North, the short side, which makes both long sides, East and West, contact direct sunlight if the house was built alike the land shape. In order to avoid heat, massing itself are longitudinal split into two, shaping shade to one another. In other words, these two are likely to be a repetition of each other which form a center space as a common area for all family members, yet it is used for both indoor and outdoor common area, which is dining, activities, outdoor terrace, and green courtyard.

The house can clearly be seen as its slant shape of roofs, since it is no need to use the entire space of the above level, on the other hand, eliminate unnecessary space helps creating space intervention between different levels. The higher parts contain two floors, while the lower parts contain one floor with higher ceiling, living room, dining and kitchen. At a center part, skylight roof is applied for allowing daylight into the house, which is not only on the upper floor, but also the ground floor, through the core of stairs space. The stairs itself is not only a circulation but a relaxing space on stairs platform.

Voids are mainly the inner part between the two masses to remain privacy from surrounding, especially at the front which is opposite to futsal stadium. Some architectural element, a large plane of wooden trellis at the West part is applied for more privacy from nearby housing yet climate concern of heat avoidance.